Reactiv provide consumer data that's the cleanest in the UK with a 24 hour turn around on delivering the data to you - "The Reactiv Way"
Are you looking to target individuals or households? Do you want to reach an audience in a demographic area or salary bracket?

Reactiv has detailed information on over 50 million consumers. So if you are looking for postal, landline, mobile or email data, Reactiv can help.

Ask for a consumer data count from Reactiv and get the results within 24 hours.

Talk to Reactiv
50 million individuals
23 million households
33 million homeowners
10 million with full date of birth
7.1 million with a landline telephone number
3.3 million with a mobile telephone number
2.5 million who own a semi detached house
7 million in council tax band D
19 million who are married
Gender - Male (23 million)
Occupation - Manager (2.1 million)
Household Income - £15,000 to £19,999 (7.4 million)
Number of Children - 1 (6.3 million)
Hobbies - Eating Out (18.9 million)
and many more...
Name
Name and address
Name, address and telephone number
Name, address, telephone and mobile number
Name, address, telephone, mobile number and email address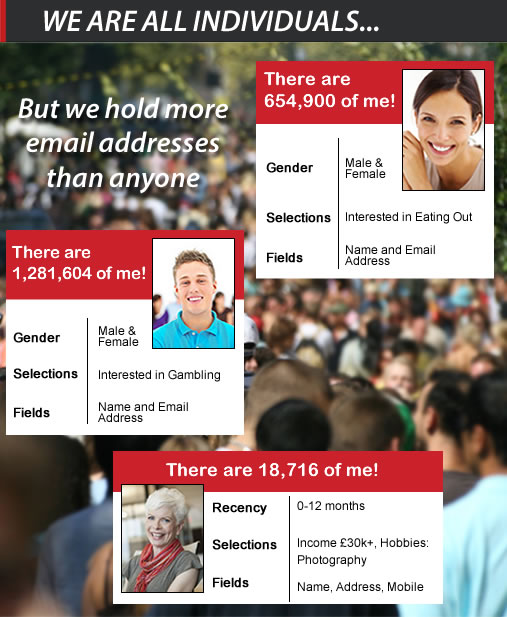 8.3+ Million
Landline Numbers

50+ Million
Postal Addresses

8.7+ Million
Mobile Numbers

4.3+ Million
Email Addresses
How We Deliver Results in 3 Steps
This is how Reactiv consistently deliver the results our clients need time after time.

DATA COUNT
Request a data count that is specific to your campaign to identify the best approach to target your ideal customers.

TEST & DELIVER
Reactiv verify all of the data before it is sent to increase engagement and improve deliverability.

RESULTS & ROI
With sophisticated tracking and targeted data you can get the leads you need.